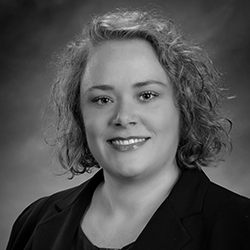 Shannon O'Donnell is an Associate Attorney with the Law Offices of Jotham S. Stein P.C. Ms. O'Donnell has experience representing corporations, executives and individuals. She has negotiated numerous corporate agreements, employment and consulting agreements, M & A and cross-border transactions and various other agreements. Ms. O'Donnell is also a litigator having assisted with representations of individuals and corporate clients in state and federal courts and in JAMS and FINRA arbitrations.
Ms. O'Donnell earned a Juris Doctor from Saint Louis University School of Law and an LL.M. and post-doc from Université Paris Dauphine. She is licensed to practice law in Illinois, New York, the District of Columbia and the U.S. District Court for the Northern District of Illinois. Ms. O'Donnell is fluent in French and speaks some Spanish and German.
Ms. O'Donnell began her career in Paris with international law firms and later a Fortune Global 500 corporation where she gained experience in complex corporate matters, including mergers and acquisitions. Prior to joining the Law Offices of Jotham S. Stein P.C., Ms. O'Donnell practiced in Chicago focusing on international contracts and corporate transactions.